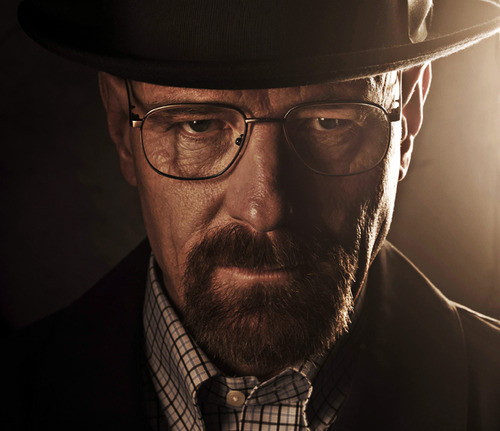 Eines der vielen großartigen Dinge, die Breaking Bad ausgezeichnet hat, war die grandiose Songauswahl. Ob Walter zu "Crystal Blue Persuasion" von Tommy James & The Shondells kochte oder zu Americas "Horse With No Name" durch die Wüste fuhr - der Breaking Bad Soundtrack war durch die teilweise sehr überraschenden Songs für mich immer etwas ganz Besonderes, und ich bin sehr dankbar dafür, dass Music Supervisor Thomas Golubić (der übrigens auch für den Sound von "The Walking Dead" verantwortlich ist) hier ebenso so viel Liebe zum Detail walten ließ wie alle anderen Beteiligten bei Breaking Bad.
Da es kaum eine bessere Möglichkeit gibt in Erinnerungen zu schwelgen, als sich die Songs aus der Serie nochmal zu geben,  gibts hier für Euch meine Spotify-Playlist "Breaking Bad - Tribute To Heisenberg". Sie ist nicht ganz vollständig, aber ich arbeite noch dran und werde sie dementsprechend updaten.
P.S.: Auf reddit gibt es übrigens ein sehr schönes AMA mit Thomas Golubić. Ich werde demnächst mal die besten Q&A's zusammentragen und hier veröffentlichen. Außerdem gibt es auf Slashfilm ein fast 1-stündiges Interview in Form eines Podcasts mit ihm.
Und jetzt - Tape ab!
Breaking Bad Soundtrack Direktlink
Die komplette, nach Songtitel alphabetisch sortierte Tracklist gibts nach dem Klick.
Anita Tijoux – 1977
America – A Horse with No Name
Steve Gorn – Afterglow
J.J. Cale – Anyway The Wind Blows
Molotov – Apocalypshit
Badfinger – Baby Blue
Say Anything – Baby Girl, I'm A Blur - MAIN
Calexico – Banderilla
Bang Data – Bang Data
Pat Boone – Battle Hymn Of The Republic
Keziah Jones – Beautiful Emilie
Danger Mouse – Black - feat. Norah Jones
Knife Party – Bonfire
Pretenders – Boots Of Chinese Plastic
Dave Porter – Breaking Bad Main Title Theme (Extended)
10,000 Maniacs – Candy Everybody Wants
The Silver Seas – Catch Yer Own Train
Bambi Molesters – Chaotica
Quartetto Cetra – Crapapelada
Tommy James & The Shondells – Crystal Blue Persuasion
Wang Chung – Dance Hall Days
Melani L. Skybell – Days Like This
Bronx River Parkway – Deixa Pra La
Darondo – Didn't I
Honey Claws – Digital Animal
TV On The Radio – DLZ
Marty Robbins – El Paso
The Platters – Enchanted
Black Feather – Étienne de Silhouette
Robert Palmer – Every Kinda People
Mack Self – Everyday - Original
Bob James – Feel Like Making Love
The Pack – Fly - Main Version - Explicit
El-P – Flyentology (Cassettes Won't Listen Remix)
Taalbi Brothers – Freestyle
Vince Guaraldi – Ginza Samba
The Monkees – Goin' Down (Single / Album Version)
Slim Rhodes – Gonna Romp and Stomp - Original
Blue Mink – Good Morning Freedom
Apparat – Goodbye (with Soap & Skin)
The Outlaws – Green Grass & High Tides
Los Zafiros – He Venido
The Marshall Tucker Band – Heard It In A Love Song 
Fritz's Polka Band – Here Is Fritz's Polka Band
2 LIVE CREW – Hoochie Mama
Johnny Ringo – Hook'em Horns
Squeeze – If I Didn't Love You
Fever Ray – If I Had A Heart
Buddy Stuart – In The Valley Of The Sun
Benny Mardones – Into The Night (Re-Recorded In Stereo)
Nancy Sinatra – It's Such A Pretty World Today
Koop – Koop Island Blues
Stan Getz – Lee
Junip – Line of Fire
Jonaty Garcia – Los Pistoleros (as heard on Creature Comforts)
Groucho Marx & Bing Crosby – Lydia The Tattooed Lady
Timber Timbre – Magic Arrow
Bronx River Parkway – Mas Y Mas
D/R Period – Money
Rod Taylor – Mr. Money Man
Miguel Enríquez Y Sus Torrenciales – Nariz Inquieta
Los Cuates de Sinaloa – Negro y Azul (From "Breaking Bad" TV Series)
Howard Jones – New Song
Ticklah – Nine Years
Pistolera – Nuevos Ojos
Steve Perry – Oh Sherrie
The Peddlers – On A Clear Day You Can See Forever
The Black Seeds – One By One
Mick Harvey – Out Of Time Man
Duke Ellington – Overture
Alvin 'Red' Tyler and The Gyros – Peanut Vendor
Nat King Cole – Pick Yourself Up
Jose Larralde – Quimey Neuquen - Chancha Via Circuito Remix
Mash Out Posse – Raise Hell
The Walkmen – Red Moon
Son Of Dave – Shake A Bone
Beastie Boys – Shambala - 2009 Digital Remaster
Prince Fatty – Shimmy Shimmy Ya ft. Horseman
Cumbre Norteña – Simplemente Amame
Mack Owen – Somebody Just Like You
The Motels – Suddenly Last Summer - 2002 Digital Remaster
Buddy Stuart – Sun Shine On Me
The Limeliters – Take My True Love By The Hand
Rodrigo y Gabriela – Tamacún
Hurricane Chris – The Hand Clap - MAIN
Dave Porter – The Morning After
The Oh Sees – Tidal Wave
Alexander – Truth
Zoraida Beato – Tus Ojos
ZZ Top – Tush
Fujiya & Miyagi – Uh
The Trak Kartel – Up In the Club
Squeeze – Up The Junction
The Be Good Tanyas – Waiting Around To Die
Left Lane Cruiser – Waynedale
Mr. & Mrs. Yellowman – Where Is Santa Claus
Gnarls Barkley – Who's Gonna Save My Soul
The Association – Windy
Sasha Dobson – Without You
Jim White – Wordmule
Clyde McPhatter – You're Moving Me
Yellowman – Zungguzungguguzungguzeng